Heart Foundation Austral Walking Group
Austral Community Walking Group meet every Monday, Wednesday and Friday outside Austral IGA at 255 Edmondson Ave Austral at 9am, walking is gentle on your body and suitable for people of all ages and fitness levels. It's also a great way to catch up with a friend and be active at the same time. Contact Belinda on 02 9606 9091 (during business hours)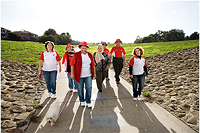 Roaming Rainbows
The Rainbows are a part of our Social Inclusion program that has served the local community for over 35 years. The service runs alternate Wednesdays and leaves from the Community Centre at 264 Edmondson Ave Austral at 9am (this may change depending with the destination). Each fortnight the destination varies to places like Mittagong, Bundeena, The Entrance, as well as local trips and special events. 
Cost starts from $15.00 pp
Shopping Explorers
Our Shopping Explorers is also part of our Social Inclusion program that provides a much needed service for those who are unable to get out and about for household shopping, banking, and paying pesky bills it is also a great social day for our community members. The bus leaves from the Community Centre at 264 Edmondson Ave Austral at varying times so bookings are essential, assistance is also available for those who are unable to get to the centre on their own.
Cost: $10.00 pp
Tech Tutor
Our Tech Tutor is a drop-in program available to community members, whether you are a complete novice or a confident beginner we can help with today's technology to get you confidently on the internet whether you need to access Government websites or Social Media.
We have computers available for community use, or bring-your-own device to access our WiFi.
Our on-staff technical adviser is available Tuesday,Wednesday or Thursday between 10am and 2pm, bookings are essential for this service.

You can also ask a tech related question via our Facebook page 
DVD & Book Exchange
There are a variety of books and DVD's available for exchange at our centre, drop in and check out our collection.
Card Making
Held at the Church of Christ Austral every Thursday at 10.00am our card making group is available to all levels of craftiness. 
Cost: free
K1 Pass It On…
A community Knitting group to help those in need, we also will gladly accept donations of excess wool to use in our knitting projects. 'K1 pass it on…' meet every Friday at 10am in H J Starr Progress Hall Edmondson Ave Austral
Current Knitting projects: Miracle Babies and Red Cross Trauma Bears
Playgroup
OLCS run a playgroup at HJ Starr Progress Hall every Monday at 9:30am to 11am, this is a great social opportunity for caregiver and bub to experience an environment that invites everyone to play, laugh, read, sing, support and enjoy the experience of getting together and meeting new people in your area, our special guests are often invited to speak on relevant topics for all parents and caregivers to benefit from. New parents and caregivers are always welcome contact us to be part of this fantastic group.
If you wish to start a playgroup in your area contact us and we can help you get started
Music Makes Me Move
At The Grove Academy the children enjoy Music, Exercise and Dance in the creative 'Zumba Kids' with Rosina the exercise program perfect for little feet.

To have Zumba kids at your childcare contact us today
Art & Development
We provide craft activities, themed and age appropriate, that allow children to learn creativity through play.
To have the OLCS Art & Development at your childcare contact us today
Community Connect
The Junction Works, Afford and OLCS meet monthly on Tuesdays at H J Starr Progress Hall for social and creative activities with a spot of morning tea.


OLCS also run a skills program at The Junction Works every Monday & Tuesday
To be part of any of our skills programs or to start a new program in your area contact us today
Please Note: All prices and dates on this website are subject to change